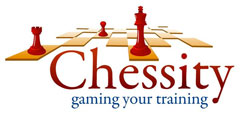 Skyrocket your calculation

Apr 11, 2014

Looking for extraordinary chess skills? The secret weapon for this has been released by Chessity.
New Upgrade your endgame

Mar 18, 2014

Endgame training will become easier with the latest endgame trainer at Chessity.com. IM Robert Ris prepared this unique trainer system for the premium users of Chessity.
The Weak Pawn
Inopov, Apr 16, 2014

The next element of positional play I'd like to introduce is the weak pawn. I will not "reinvent the wheel" in identifying and describing the various types of weak pawn, instead I will attempt demonst...

» read all
Anand's victory in four key games
Erwin, Apr 1, 2014

It is probably no longer a surprise for you when I tell you it was indeed Vishy Anand who won the 2014 Candidates tournament in Khanty-Mansiysk. The key to his tournament victory can in my view be des...

» read all