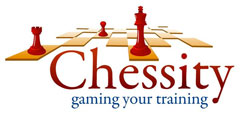 Achievements rewarded!

, Jan 18, 2013



Cor van Wijgerden is a renowned Dutch chess trainer who is famous for having developed the steps method. His achievements over the past 25 years were rewarded!




Learn & improve your chess, Jan 17, 2013

Today, we have released a new chess learning experience for you. With the new theme trainer you can learn & improve your chess. We have released Step 1 and 2.

The new iPhone experience, Dec 21, 2012

How you can make an app of chessity's mobile website in three steps. Train wherever you want!
International Master Cor van Wijgerden helped Chessity develop an exciting new training concept. He is a well-known chess trainer and developer of the Steps method.

The Steps method has existed since 1987. Many schools and chess clubs in the Netherlands, Belgium, Germany, Austria and Switzerland use the method for their chess lessons. The method consists of six steps taking you to a higher chess level.